This domain is for sale > Contact

USA Motorcycle Tours on a Harley-Davidson
The USA are a dream destination for motorcyclists from all over the world. Route 66, Highway 1, Florida, the Wild West, Pony Express, Harley-Davidson, Easy Rider... Discover the United States of America, the palm beaches of Florida, the National Parks and all other regions. Live your dream and ride a Harley-Davidson on the legendary Route 66 across the USA from Chicago to Los Angeles by discovering eight states along the way of this once in a lifetime road trip.
Especially the historic mother road Route 66 is the dream of every motorcyclist from all over the world. You can make this dream come true. Travel under expert guidance and discover the United States of America from the seat of a Harley-Davidson motorcycle. Of course you can also take along your partner. Non-motorcyclists can enjoy the tours in a comfortable escort vehicle. Starting in Chicago, the Route 66 runs through the Midwest and the states of Illinois, Missouri and Oklahoma. Endless straight highways run for hours through the vast expanse of deserts, where once brave pioneers drove in wagons to California - looking for a better life. The remarkable landscape in Arizona and New Mexico with their Table Mountains (mesas), Indian reservations, ancient pueblos and Spanish Mission churches will fascinate you. After visiting the Monument Valley and Grand Canyon the great cities of the west, Las Vegas and Los Angeles await you at the end of your tour.
All Motorcycle Tours in the USA have been planned and explored by Reuthers Motorcycle Tours, the leading Harley-Davidson Premium Tour Operator with carefully selected hotels. In addition to fully Guided Tours, you have the possibility to book a Semi Guided Tour, where you can freely plan your days, or the popular Self Drive Tours - for the feeling of great freedom on your trip.
* HARLEY-DAVIDSON, HARLEY, H-D, HD, HARLEY-DAVIDSON AUTHORIZED TOURS and the Bar & Shield logo are among the registered trademarks of H-D U.S.A., LLC. Reuthers is a registered trademark of REUTHER-ENTERTAINMENTS.
We now invite you to choose from the following Dream Tours we have put together for You: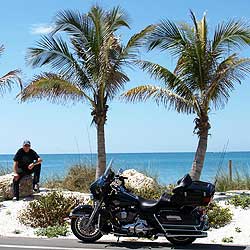 Florida Sunshine
The classic motorcycle tour through Florida: Experience the Sunshine State in the saddle of a Harley-Davidson during our 11 day tour. Our round trip starts in Miami and heads over to the most beautiful beaches...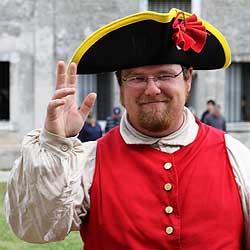 Florida History
This 8 day motorcycle tour through Florida takes you to the most historic places in the Sunshine State. You will discover Saint Augustine, the oldest European settlement in Florida...
Find your Dream Tour: